Actor-turned-philanthropist Kyaw Thu's home confiscated and sealed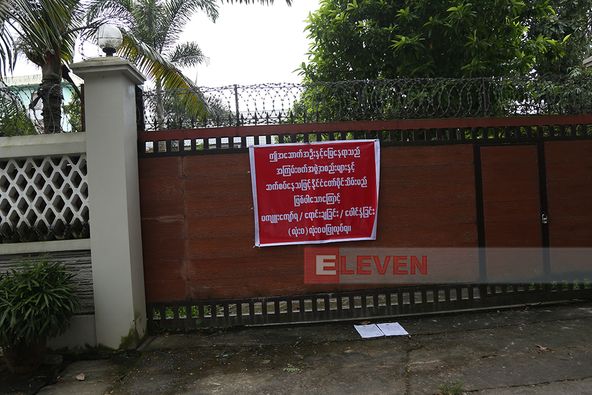 Authorities confiscated and sealed the home of Free Funeral Service Society (Yangon) president U Kyaw Thu and his wife Daw Shwe Zee Gwat, according to local sources available on August 24.
Neighbors said authorities arrived on August 23 and put a red vinyl poster on the gate of house No. 66, Arzarni Street, Ward 5, Mayangon Township, Yangon. The poster indicates that the land and the building have been confiscated because the owners have links with terrorist organizations.
"Yesterday around 2 p.m., the police and soldiers arrived in six cars in front of the gate of U Kyaw Thu's house. They then attached the vinyl to the gate," the neighbors said.
The vinyl warrant states that a complaint has been filed against U Kyaw Thu and his wife Daw Myint Myint Khin Pe (alias) Shwe Zee Gwat who committed crimes in violation of Section 505(A)/512 of the Penal Code . Arrest warrants were issued for them, but they escaped and went into hiding. Both were summoned to court on August 25. Therefore, a warrant was issued citing the July 25 order of the Mayangon Township Court saying that except for the land for which taxes are paid, the house and property within would be forfeited and sealed. until further notice.
Additionally, the homes of some famous political activists and celebrities such as 88′ student generation leader Min Ko Naing, director Ko Pauk, singer Lin Lin, singer Chan Chan, TV presenter Maung Maung Aye, writer Wai Hmu Thwin and social influencer Pan Selo have already been locked down.