Rebuild human capital [Part – II]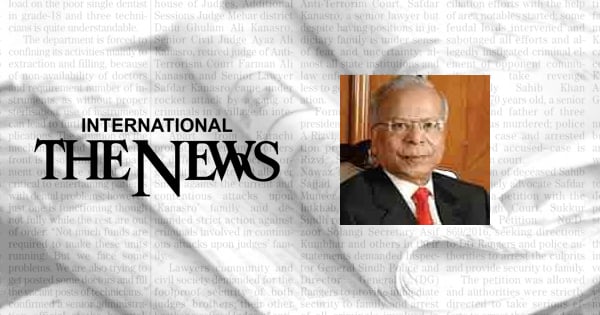 What kind of human capital strategies should Pakistan put in place in order to improve its current situation and maximize the benefits for the growth and welfare of the majority of the population? These strategies require effective coordination and ownership by federal, provincial, and local governments, as well as the private sector, academia, think tanks, media, nonprofits, and parents.
It must be admitted from the outset that this is the main stumbling block that has prevented Pakistan from making significant progress in the area of ​​human capital. At the conceptual level, there is a huge divergence of views on the priorities to be given, the resources to be allocated and the roles to be distributed among the main stakeholders. There are too many experts in the particular fields of education and health reform who want their strong opinions to be accepted exclusively.
Constructive dialogue and the search for consensus have become difficult in a society where polarization and division have become so deeply rooted and where tolerance and trust have become rare commodities. The recent case of the single national curriculum is a striking illustration of these dominant trends in the country. All efforts in this project are likely to be in vain as the new government may abandon it rather than polish and correct its shortcomings, because if it succeeds, the credit will go to the previous government. The current government could pursue a different priority.
The impact of investing in human capital is felt decades later, but political leaders want something tangible to show during their tenure. This is why the inauguration and inauguration of physical infrastructure projects are so alluring and attract the most attention as well as budgetary resources. Continuity, coherence and dedicated implementation efforts over a long period, applicable to all structural reforms, are also prerequisites for a successful human capital strategy. This disconnect between political expediency and the pursuit of long-term goals has proven to be a plague so far.
After sketching the current situation in Pakistan and the human capital threshold requirements to "enable all children to reach their full potential – to grow up well-nourished and ready to learn, to achieve real learning in the classroom and to enter the labor market healthy, skilled and productive work", we identify ten areas where the gap between "what exists" and "what should be" needs to be closed (in no order of priority). The proposals presented below are drawn from research studies, field observations and extensive consultations with stakeholders by reform commissions and working groups.
First, restructure the system of governance and management of education and health by clearly delineating responsibilities between the different levels of government. The federal government should limit its scope to higher education and national health programs – universities and national centers of excellence, the National Institute of Health, regulatory authorities, testing laboratories and accreditation. Provincial governments should limit themselves to colleges, technical and vocational training, tertiary hospitals and medical teaching institutions. And district/metropolitan governments, municipal corporations and municipal committees should manage KG schools, primary to upper secondary, primary health care, basic health units, rural health centers, hospitals and tehsil dispensaries and district and municipal hospitals.
District education and health authorities should be responsible for setting standards, supervising and inspecting private and non-profit schools, hospitals and clinics. Colleges and universities should have their own board of management while schools should have school management committees with adequate powers and resources. The current artificial distinction between development expenditure and other expenditure should be abolished and replaced by a programmatic approach.
Second, reduce gender disparity and bring women's school enrollment and literacy rates to equal or higher than men's. The evidence for higher returns in educating women is so compelling and the externalities so positive that grants, scholarships and secure transportation arrangements must be made for them.
Conditional cash transfer allocations under the BISP for female students should be increased, especially for Balochistan, merged districts, South Punjab and rural Sindh. At school level, a nutritious lunch should be served regularly. Female teachers have proven to be more productive and dedicated when teaching. They should be the first choice in appointments in public schools (all other things being equal) where teacher quality is a binding constraint on learning outcomes. The example of TCF schools where the teachers are all women and have achieved exemplary performance demonstrates the validity of this recommendation.
Third, bring the 23 million out-of-school children back into formal and informal learning settings and equip them with vocational skills. Most students drop out after completing elementary school due to the shortage of middle schools in their localities. The ratio of middle and high schools to primary schools is unbalanced, and new middle and high schools need to be established in areas where there is demand. A second change in existing school buildings, with a compressed but relevant curriculum including work and life skills, could be a cost-effective method of bringing these children into the learning network.
Community based schools run by individual operators were a promising experiment for non-formal basic education where the premises are provided by the community while textbooks and teacher salaries are provided by the government. This project, which is aimed at children aged 4 to 16, has been neglected in recent years due to a fight between the federal and provincial governments over funding for these schools. Considering cost-effectiveness and community partnership, these non-formal schools should be revived, strengthened and expanded. Students wishing to resume their studies do not have to pay tuition fees. Reputable retired teachers living in or near the area can be contracted to teach these students, reducing the financial burden on the Treasury while ensuring good quality.
Fourth, gradually introduce science, arts, and math from the earliest days of schooling to inculcate critical thinking skills and avoid rote learning, memorization, and cramming for grade-seeking and degree-seeking exams. Our future is bleak if 90% of students in Pakistan perform poorly in math and science. Addressing this issue requires reconfiguring the entire process of teacher recruitment, orientation and training, and learning-related pay rather than uniform pay scales at all levels.
Competency bonus and performance measures should be the guiding principles. Science labs where students can perform hands-on activities to learn concepts should be set up in middle and high schools by all education providers. Studies focused on Pakistan show that for every year of increased secondary education for the entire workforce, Pakistan's GDP will increase by 13%.
Fifth, women health workers had made a promising start in increasing access to essential primary care services and supporting health systems at the household and community levels. However, for a variety of bureaucratic and short-sighted decisions, they lost their effectiveness. These agents as well as family planning agents should be merged to form a single cadre with clearly defined tasks. They must be selected on the basis of certain criteria, continuously trained, diligently supervised, provided with security of service and located in their own communities and villages. They should receive the necessary vaccinations, etc. and handsets to record what they've accomplished.
To be continued
The writer is the author of 'Governing the ungovernable'.