Somer Valley Tennis Becomes a Registered Charity: President's Announcement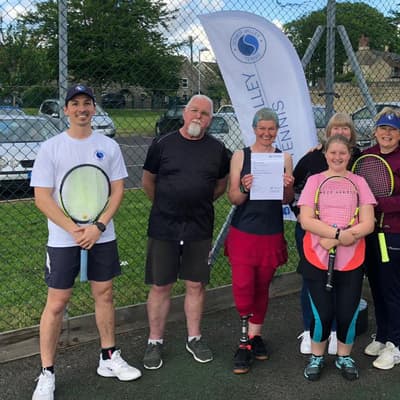 It has been an eventful year since the transformation of Somer Valley Tennis in June 2020. We have continued to raise standards, create a welcoming environment and ensure tennis is "open" and accessible to everyone in the Midsomer Norton area / Radstock.
Matt Wise, CEO of Dragonfly Leisure, which operates indoor courts at Writhlington, said: "Somer Valley Tennis Club, formerly Writhlington Tennis Club, has been a valued partner of Dragonfly Leisure for over a decade. Their new charitable status is an exciting development as they can now access funds to help develop tennis opportunities in the area.
Longtime member and now Trustee Jenny Perez said, "As Trustee, I am delighted that Somer Valley Tennis Club has been granted charitable status. The club is well established and has fantastic indoor facilities – being a charity will open up more opportunities to build on solid foundations and enable the club to have a bright future. Our philosophy is tennis for all and being a charity reinforces that."
Our village projects are in full swing at Farrington Gurney and Timsbury, and Farmborough Court is now available for tennis and is used by parishioners as a multi-sports area. Each is unique in the way it operates, either with an affordable subscription or with land that can be rented on a paid basis.
For the second year in a row and thanks to the superb coaching team at Dragonfly Leisure in Writhlington, local children's tennis camps were held in Timsbury in mid-May. The Trustees of Conygre Hall have been enthusiastic supporters of the tennis project and give special thanks to Matt Bramley for his passion and drive. Tennis is now present on the leisure base and completes the village's multi-sport offer.
Avon Summer League is currently played with four women's teams and five men's teams playing each week in the Avon area.
Mandy Stonier, Chairman, said: "We are really pleased with the way the club is evolving, providing local people with local opportunities to play tennis. An amateur club like ours could not survive without the raft of volunteers behind it. We would like to thank all those members who over the years have given their time, energy and support to our club.