Death of Robert B. Menschel: Syracuse graduate, administrator, philanthropist and financial icon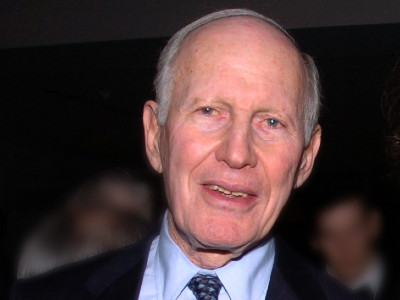 Robert B. Menschel '51, H'91 has been nationally recognized for his generous support of the arts (especially photography), education, medicine, and criminal justice issues. When it came to his alma mater, Menschel's philanthropy was equally eclectic, leaving a far-reaching legacy through the university he loved. Menschel died on May 27, 2022, at the age of 92.
"Bob was truly a model of service at Syracuse University," says board chairwoman Kathleen A. Walters '73. "First elected to the board in 1981, he served as a voting director for more than two decades, becoming a director emeritus and one of a select group of honorary directors recognized for their contributions. From exhibitions to lecture series to professorships and endowed chairs, Bob has supported the creativity, innovation, and academic excellence that define this university.
Menschel earned a Bachelor of Science degree from the College of Business Administration in 1951. After graduating from New York University's Graduate School of Business Administration in 1954, he joined Goldman Sachs & Co. where he founded the first institutional department, which became the model of the securities industry. Menschel then became a partner in charge of institutional sales and later became one of the company's senior directors. In 2002 he published "Markets, Mobs & Mayhem: A Modern Look at the Madness of Crowds", where he explored the phenomenon of crowd psychology and its effects on business and culture.
Along with his board work, which included serving on the Executive and Investment and Endowment Committees, Menschel served on the Commitment to Learning Campaign, the National Schine Committee, and the Ballentine Center Committee. His philanthropic support was widespread, including the Paul Volcker Endowed Professorship at the Maxwell School of Citizenship and Public Affairs; the Robert B. Menschel Endowment Fund; the Maxwell-Eggers Building Fund; the Tolley Distinguished Teaching Chair in the Humanities; and the William Safire Professorship in Modern Literature. He was praised for his foresight when he donated in 2001 to create The University Lectures, an interdisciplinary lecture series bringing together in Syracuse people of outstanding achievement in the fields of architecture and design; humanities and sciences; and public policy, management and communications.
His philanthropy supported the renovation of Light Work and Community Darkrooms in the Watson Theater Complex, which was dedicated to the Robert B. Menschel Media Center. He was the primary private supporter of Light Work and Community Darkrooms, providing financial support, resources, and extensive photography collections to the Light Work Funds and for exhibitions at the Robert B. Menschel Photography Gallery.
Similarly, Menschel has been widely praised and recognized for his support of photography exhibitions at the National Gallery of Art in Washington, DC, and the Joyce and Robert Menschel Hall for Modern Photography at the Museum of Modern Art (MoMA) in New York. MoMA's 2016-17 exhibition "The Shape of Things: Photographs from Robert B. Menschel" tells the 150-year history of photography since its beginnings in 1843 and features works acquired over 40 years with Menschel's support . Menschel was a member of MoMA's Photography Committee, where he is credited with building the extensive collection of photographs with financial support and donations from his personal collection.
The 2017 exhibition at the National Gallery of Art, titled "Posing for the Camera: Gifts from Robert B. Menschel", once again demonstrated his passionate advocacy for photography. The exhibition explored portraiture and featured photographs acquired with funds from Menschel or promised as gifts from his personal collection.
In 2015, Robert and his brother Richard L. Menschel '55 shared the Carnegie Medal of Philanthropy, which recognizes those who uphold Andrew Carnegie's philosophy that "with wealth comes the responsibility to contribute to the betterment of the world and to a more open and just society". During the medal presentation, it was noted that "the brothers' dedication and talent have taken them both to the top of the investment banking field at the prestigious Goldman Sachs, and they have given back in countless ways for decades". Robert has been quoted as saying "there is no way to dispose of surplus wealth worthy of credit to the thoughtful and earnest men through whose hands it flows, except by using it year after year for the general good" .
Menschel received the University's George Arents Pioneer Medal in 1980 for "Excellence in Business, Excellence in Life" and received an honorary degree from Syracuse University in 1991. In 1999, he received the Jonathan J. Holtz of the Martin J. Whitman School of Management. Graduate of the year.
Beyond his work on the Syracuse University board of trustees, Menschel served as president of The Vital Projects Fund Inc., a charitable foundation with an interest in human rights and human rights reform. criminal justice; President Emeritus and Past President of MoMA; member of the Board of Trustees and Executive Committee of New York Presbyterian Hospital; Honorary Trustee and Past Chairman of the Dalton School Board of Trustees; Member of the Board of the National Gallery of Art; and Fellow of the Council on Foreign Relations where he is the namesake of the Robert B. Menschel Economics Symposium.
He is survived by his partner, Janet Wallach; his ex-wife, Joyce Frank Menschel; his children, David Frank Menschel and Lauren Elizabeth Menschel; several grandchildren; and his brother and sister-in-law, Richard Menschel '55 and Ronay Menschel.