Virtual preview of the planned state-of-the-art Ledge climbing center in the capital of the Highlands, where the aim will be to improve mental well-being and develop life skills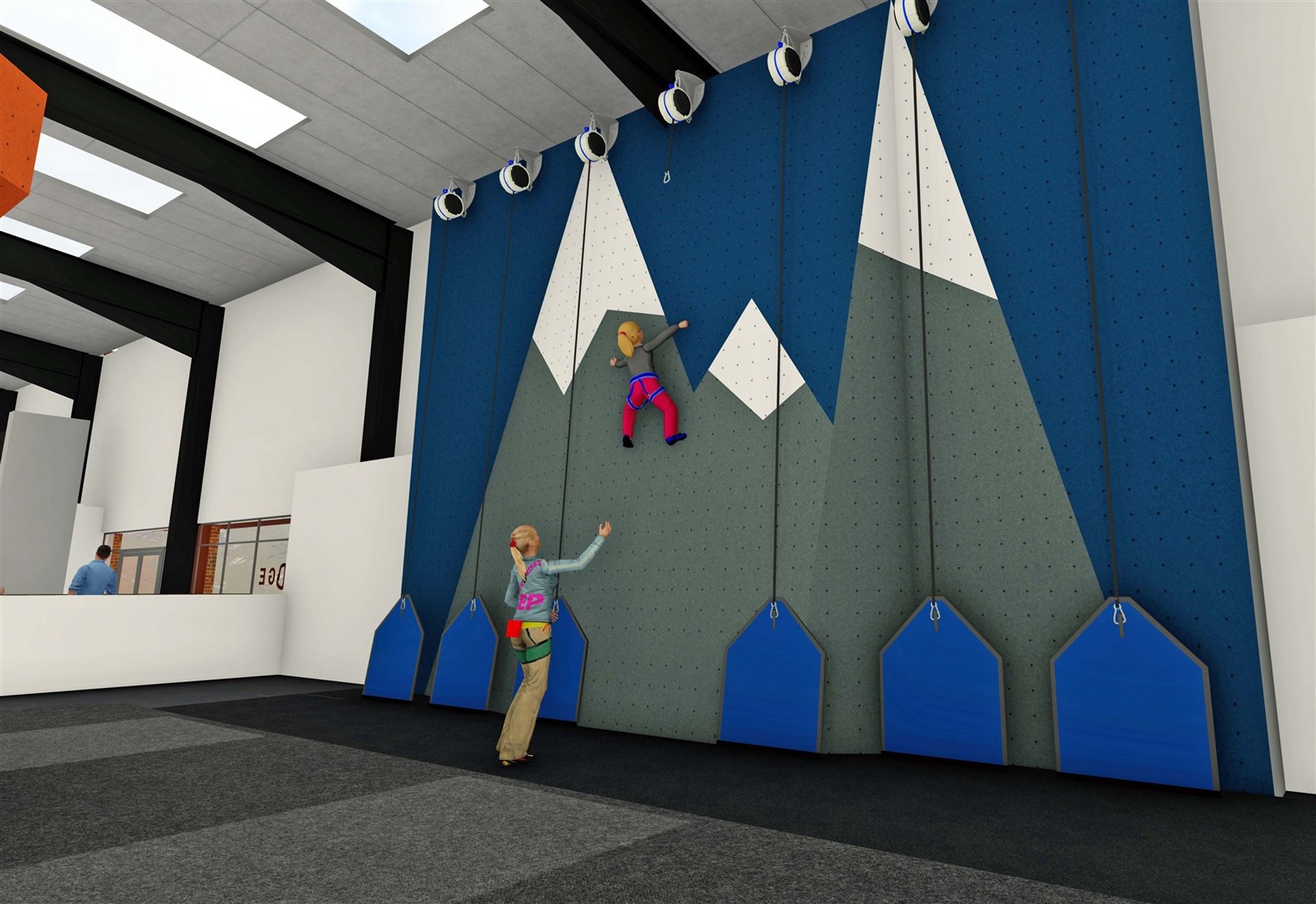 The boss of a new adventure sports charity has set out his ambitions to create a community center to help improve people's lives.
The Ledge, a new state-of-the-art climbing center and community-focused charity, will open later this year.
It is set to become Scotland's national center of excellence for bouldering and will also include climbing walls, yoga and gym space, cafe and retail space following the conversion of a former store furniture at Telford Retail Park.
Chief executive Duncan McCallum said the aim was to create a community hub where the center would be run by climbers but open to anyone who wants to learn new life skills and improve their own mental well-being.
"The Ledge is not so much the building, but the concept of community and collaboration that is ingrained in climbing," said Mr McCallum, co-presenter of BBC Scotland's Adventure Show.
"I would love to see Ledge centers in cities like London, Birmingham and Dundee, or at least our programs used in other places.
"It should become, or have become, the watchword for changing lives in the outdoor world.
"If we change one life in 20 years that would be great, but of course I'd like to think we'll have changed hundreds for the better, created jobs, pathways and developed successful programs that could be rolled out across the world. 'international.
"There's no reason why we can't do this."
Crowdfunding campaign targets £150,000 for innovative new center
The opening of the center will create up to 40 jobs while boosting the local economy by £1million.
The facility will be part of a social enterprise, with a mission to offer valuable coping strategies to people of all ages who may struggle in the face of adversity.
Mr McCallum said: "As the climbing gyms provide a shared experience where climbers of all abilities are supported by peers, visitors can gain confidence and benefit from the camaraderie The Ledge will create.
"With the vision of 'life vertical', a phrase meaning to stand tall with confidence and clarity, the charity aims not only to nurture and inspire the next generation of mountaineers, but also to provide the skills and strategies acquired through climbing as a springboard for better coping strategies, resilience and strength in all aspects of members' lives in the future. »
He said climbing had a profoundly positive impact on the lives of The Ledge founders, which they wanted to share with others through various outreach programs.
The Ledge develops partnerships with organizations such as NHS Highland, University of the Highlands and Islands, charities and youth workers.
He said the programs offered are created knowing that the first steps can often be small in order to build an individual's confidence so that when bigger challenges arise, the foundation is laid for a new set of learning resources. adaptation to use.
The project has secured funding from various organisations, including Highlands and Islands Enterprise, Sportscotland, the Robertson Trust and SSE.
The charity has also launched a £150,000 crowdfunding campaign at support.theledgeclimbing.com/the-ledge-bouldering-and-climbing-gym.
Crowdfunding campaign aims to raise £150,000
---
Do you want to react to this article ? If yes, click here to submit your thoughts and they may be published in print.
---