WRAP, partner of Behavior Change to fight against climate change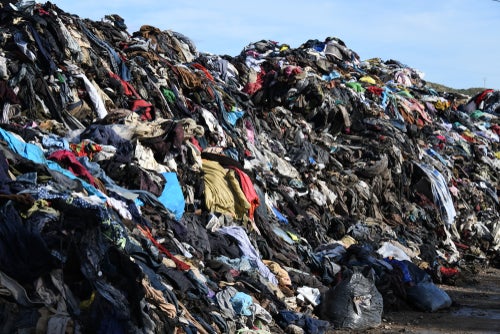 The new partnership between UK social enterprise Behavior Change and UK waste recycling charity WRAP will use the established civic campaigns of organizations across government, business, charities and foundations to help fight change climate change and achieve net zero carbon goals.
The collaboration, which began on January 5, 2022, is expected to expand WRAP's behavior change capabilities on the most pressing environmental issues, which include apparel and textiles and recycling, and will encourage behavior change for a wider range of businesses, charities, public sector bodies and foundations.
The two organizations hope the partnership will scale up the interventions already in place and encourage the urgent action needed to alleviate the strain on the environment through the carbon emissions embedded in the items consumers buy and use every day, such as clothes.
Behavior Change and WRAP will use this partnership to help the companies that work with them reach their customers with environmental messages more effectively, and engage directly with the public through a number of consumer-facing brands, including Love Food Hate Waste, Recycle Now, Love Your Clothes and Clear on Plastics.
The collaboration will also support a range of environmental commitments made by organizations and governments, including those under Courtauld 2030, the UK Plastics Pact and Textiles 2030, as well as company-specific commitments and scale targets. UK, such as the 6th carbon budget.
The agreement is meant to cement years of work already undertaken on behavior change interventions by both WRAP and Behavior Change.
WRAP CEO, Marcus Gover, explains, "Large-scale behavior change can generate enormous benefits, and together Behavior Change and WRAP will drive change forward in the businesses and governments we work with – here and around the world. the world – and through our work with the public.
Behavior Change Executive Director David Hall adds, "We all know that people tend to make decisions that work against their own interests and those of society and the planet. We focus on learning what really works to change behavior for the better, and then escalating it. Working hand-in-hand with WRAP will allow us to do this in a broader and more effective way that begins to address the enormous sustainability challenges that both organizations must tackle. This new partnership is focused on impact and we are excited about the new possibilities it will bring.
Hall and Behavior Change Director, Rob Moore, will continue to manage the business and work closely with WRAP's Director of Collaboration and Change, Catherine David. The social enterprise will have a new board including trustees and trustees from WRAP and an independent non-executive member, while Hall will join WRAP's management team.
This decision follows a successful year for Behavior Change and WRAP. Behavior Change continued to grow in 2021, winning new work from clients and WRAP hosted the biggest recycling week yet.