Lawyer offers Andover with portrait of Clarence Darrow | Local News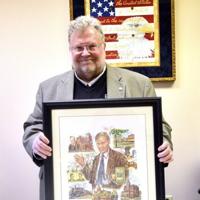 ANDOVER — An important connection to United States legal history will be commemorated in the community hall with a portrait of famed attorney Clarence Darrow through the efforts of Andover Village Attorney Richard Kotila.
Kotila has been a village lawyer for 40 years and decided to present a print of Darrow to commemorate his ties to the area. The print will be on display in the council room. He said 40 years ago the former lawyer showed him Darrow's signature on a plaque on the bedroom walls, but nothing more visible was available.
Darrow was born and raised in Kinsman and based his law practice in Andover. In 1883 he signed a petition asking the Ashtabula County Commissioners to accept Andover as a village. He later argued cases in the former Ashtabula County Common Pleas Court, which now houses the Ashtabula County Board of Commissioners meeting room.
In 1888, Darrow moved to Chicago and argued some of the biggest cases of the 20th century, including the Leopold and Loeb murder trial and the Scopes Monkey trial, Kotila said.
Kotila purchased the print through a charity linked to the Ashtabula County Bar Association.
"This signed and numbered print is from a painting by the late Daniel Francis Bridy that was commissioned by the Ashtabula County Bar Association," he said.
Bridy specialized in national historic murals and has been recognized by the New York Art Director's Club, Chicago Art Director's Club, and Pittsburgh Society of Visual Communications.
"Clarence Darrow was one of the first superstar lawyers," Kotila said.
"Jan. 6th, I celebrated my 40 years as the Village Advocate and decided to give a gift to the Village. It was a real honor to serve the Village for 40 years," said Kotila .
Andover Mayor Gerald DiBell said he thought it was a great gesture from Kotial.
"Rich has done a lot for the village. It's very appreciated."