Our Community: Land in Galiano's Cable Bay is Protected, Elk Lake Swimming Helps Hospital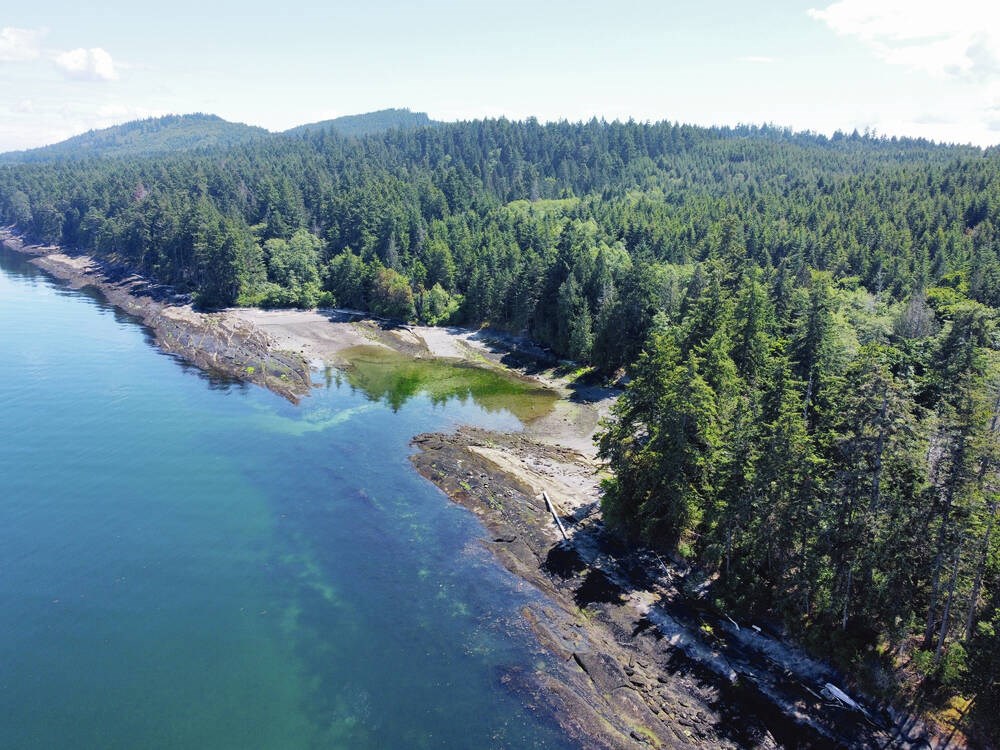 Two conservation associations have partnered to purchase 26.5 hectares of shoreline land on Galiano Island, adding to a network of connected conservation areas totaling more than 500 hectares that span the width of the island.
The waterfront property was zoned for a six-lot residential development, but the landowners wanted the area to remain as forest and delayed the sale of the property until funds could be raised to purchase it from preservation purposes.
The acquisition is the culmination of a multi-year partnership between the Galiano Conservancy Association, a community land trust and registered charity, and The Nature Trust of BC, one of BC's leading non-profit land conservation organizations. Province.
The parcel of land features an ecologically diverse coastal Douglas fir forest and over a mile of pristine rocky shoreline in Cable Bay. The bay is a haven for resident and migratory birds, intertidal life and marine mammals, with nutrient-rich waters serving as nurseries for young fish.
The property is part of the traditional and unceded territories of the Penelakut, Hwlitsum and other Hul'qumi'num speaking peoples. Cable Bay has a long history of use and habitation by Coast Salish peoples.
According to Florence James, a Coast Salish elder and Hul'qumi'num language teacher from Penelakut Island, the area is traditionally known as Qw'xwulwis, the word hul'qumi'num denoting the action to paddle.
Galiano is part of the Southern Gulf Islands archipelago and lies near the center of the Salish Sea and the Coastal Douglas-fir Biogeoclimatic Zone. Cable Bay and the network of protected areas it joins are a remnant of the area.
The acquisition was made possible by the federal government through the Natural Heritage Conservation Program, the Sitka Foundation, MapleCross, the Collings Stevens Family Foundation, and more than 150 people, including many Galiano residents. .
The Cable Bay property is expected to officially open to the public this year, once a management plan and signage are in place.
• For more information, visit naturetrust.bc.ca or galianoconservancy.ca.
Elk Lake Swim raises funds for the hospital
A rehab assistant at Saanich Peninsula Hospital's long-term care unit plans to swim Elk Lake to raise money for the Peninsula Hospital and Healthcare Foundation on Monday.
Lucas Gentina has worked with the hospital's long-term patients for about three years and has witnessed firsthand how COVID-19 has affected their minds.
A lifelong swimmer – 'I started after my dad threw me in the pool one day' – the 24-year-old has found a fun way to raise money and lift the spirits of the 150 residents of the 'hospital.
"A little positivity goes a long way. I just want to help my community and especially the seniors at the Saanich Peninsula Hospital," said Gentina, who also enjoys surfing.
"I know that the foundation's donors care about our seniors and want the best for them. Ideally, if we could raise money to help them in any way, that would mean the world to me. Funds raised would flow back to residents through special celebrations and special amenities. They had an incredibly difficult year. Everything helps.
Gentina has been training for the swim since November and is confident of tackling the two kilometer long lake. He will wear a wetsuit and have a safety boat by his side. Swimming will start at Ski Beach and end at Eagle Beach (next to the rowing club).
Gentina plans to start at 10 a.m. and hopes to finish around 11:30 a.m.
You can donate to the fundraiser at sphf.ca/lucas-swim-for-long-term-care.
Camosun students organize a clothing drive
Students in Camosun College's Criminal Justice Program ended their semester by collecting a classroom-sized donation of clothing for Our Place.
Students posted posters at the college's Interurban and Lansdowne campuses and distributed flyers in surrounding communities.
Sophomore Sean Eversfield said "basically everyone" in the second year of the criminal justice program was involved in the campaign.
Emma Godard, also a second-year student, said the need for donations was increasing due to the impact of the pandemic.
"There's definitely a need for it – there's definitely been an increase in demand," she said.
"On our flyer, there was a part where we specified men's clothing because that's what we really need – men's clothing like jackets, sweaters and socks."
The students held a sock drive earlier in the semester and are planning a bottle drive. After suspending volunteer work last year, Eversfield and her classmates have found collecting clothes to be a rewarding experience.
"The students who went to Our Place and the other shelters to distribute the clothes, they said it was a really positive experience, and it was eye-opening to talk with them and hear their stories," Eversfield said. .
"Our Place is a big one because of the shelter, but we're involved with just about every criminal justice-related or volunteer-related organization in Victoria."
Community involvement is a mandatory part of the criminal justice program.
"It's a requirement and also a very important part of the field that we go into in general," Eversfield said. "Just being involved in the community."
Imminent grant deadline
January 31 is the deadline for nonprofits and community organizations to submit an application for City of Victoria Strategic Plan Grants, for projects or programs that build community resilience and equity.
Last year's grants, which totaled $470,000, supported 53 community organizations undertaking a range of projects. Examples include a community food sharing program, Indigenous reconciliation circles, mental health counseling for newcomers, a youth suicide prevention program, and housing support for women affected by domestic violence.
"Our community continues to be impacted by COVID-19," said Mayor Lisa Helps. "The City's Strategic Plan Grants provide a means for council to support local groups in creating and improving resilience and equity in Victoria's neighborhoods as we build back stronger after the pandemic.
The projects and programs considered must support one or more of the eight objectives of the municipal council:
1. Good governance and civic engagement
2. Reconciliation and Indigenous Relations
3. Affordable Housing
4. Prosperity and economic inclusion
5. Health, well-being and a welcoming city
6. Climate leadership and environmental stewardship
7. Sustainable Transportation
8. Strong and livable neighborhoods
Nearly $500,000 in funding is available this year. Since its inception in 2015, the program has funded 339 projects, investing $3.5 million in the community.
For more information and to apply, go to victoria.ca/grants.