Charities, funders and philanthropists raise £ 15million to secure literary artifacts for the nation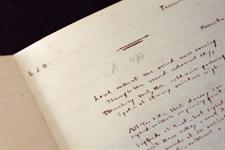 A coordinated effort of charities, funders and philanthropists resulted in a unique collection of literary objects, including letters written by Jane Austen and the Brontë manuscripts and paintings, for the nation.
The Friends of the National Libraries, a charity that works to safeguard the written and printed heritage of the United Kingdom, has purchased the Honresfield Library Collection, which also includes personal documents and original manuscripts of Robert Burns and Sir Walter Scott. He secured the collection for £ 15million with help from the National Heritage Memorial Fund, billionaire Sir Leonard Blavatnik and a range of other backers.
The collection, which was assembled by Rochdale mill owner William Law in the late 1800s and which has been inaccessible to scholars or the public for most of the past 80 years, includes a collection of poems by Emily Brontë with edits by her sister Charlotte, a letter from Jane Austen in which she jokes about the refusal of a marriage proposal, and a letter from Robert Burns asking a friend for money.
It was advertised for sale by Sotheby's auctioneers in May, but FNL persuaded the owners to postpone the sale to give the charity time to purchase the collection on behalf of several UK libraries.
The charity has now announced that it has raised the £ 15.3million needed to purchase the entire collection, with Blavatnik, considered the richest man in the UK, contributing half funding and NHMF providing an additional £ 4million.
The remainder of the money was provided by the Prince of Wales Charitable Foundation, the Berkeley Foundation, and a range of other fundraising organizations and individuals.
In a statement, the FNL said the purchase had "guaranteed that the collection will remain permanently in the public domain and will never be lost to foreign institutions or private collections that are not accessible to the public."
The collection, which has been renamed the Blavatnik Honresfield Library in recognition of the billionaire's gift, will be distributed to a range of relevant museums and libraries, including the Brontë Parsonage Museum in Haworth, University of Leeds, British Library, Bodleian Library in Oxford, Jane Austen's home in Chawton, Hampshire, the National Library of Scotland and the Robert Burns Birthplace Museum.
In a statement, the Prince of Wales, who is an FNL patron, said it was "great news" that the charity was successful in raising funds.
"Our literary heritage is our cultural DNA and this preserves it for students, teachers, academics and ordinary readers in perpetuity," he said.