Our community: preteen raises money for children's hospital waiting room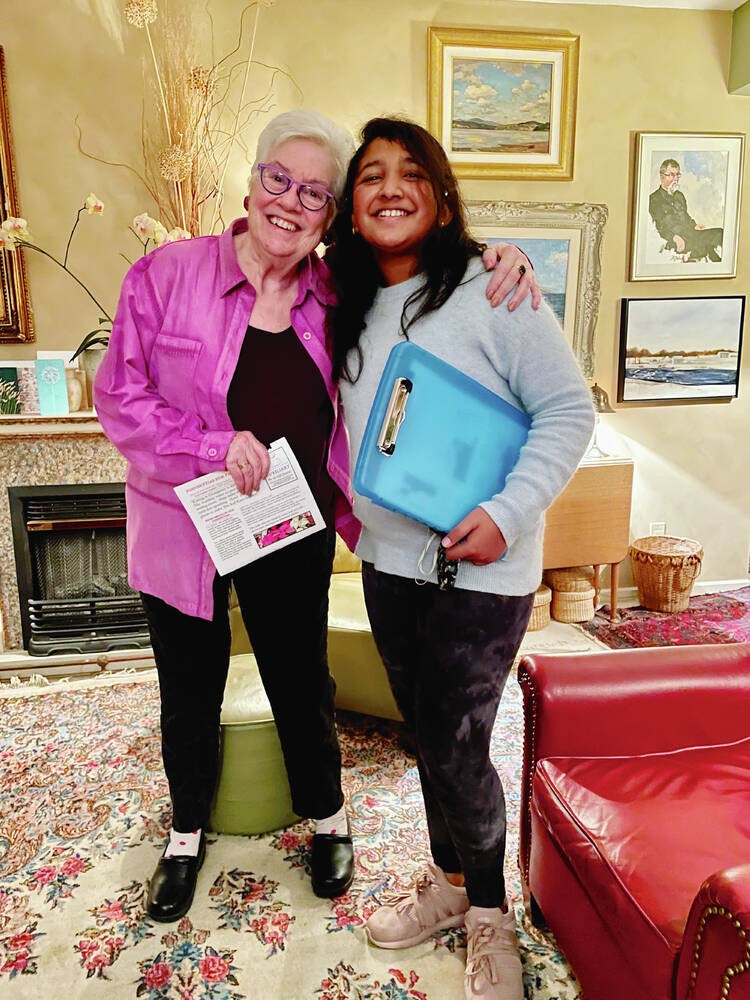 Victoria General Hospital auxiliaries praise the actions of a 12-year-old girl who has been door-to-door in her neighborhood selling poinsettias to raise funds to help build a waiting room separate for children at Victoria General Hospital.
The money that Shreesha Ramandev, a grade 8 student from Glenlyon Norfolk, raised will go towards the creation of Kid Kave, a waiting room where young children can escape during long waits in the ER.
"We were thrilled that a young student was so enthusiastic and working so hard," said Val Smith, Poinsettias Campaign Coordinator for Hospital Auxiliary Patients. "Shreesha has also drawn on her own savings to donate to the cause and continues to seek support in her quest. "
She said that even though the deadline for this year's poinsettia campaign has passed, people can still become "Emergency Room Santa".
"Your $ 20 donation will give an emergency worker a poinsettia for Christmas and help Kid Kave. We have a professionally painted mural, Westcoast Life by Marcela Strasdas and her team, and a mobile by Carol Koebbeman to help entertain the kids – and more to come, "said Smith.
The Victoria General Hospital Auxiliary has been a federally chartered charity and has been raising funds for hospital equipment and amenities since its construction in the 1980s.
• For more information, go to vgha.ca
>>> The Gift of Music: 50 guitars
at stake for families in need
A View Street cafe is looking for 50 unused or unused guitars that they can re-string and give to families in need for Christmas in a campaign they call The Gift of Music. The organizers of the Soupa Cafe say that a gift like an instrument can not only change a family's Christmas, but their lives for many.
To make it even more magical, they involve local music stores and volunteers to add gifts for siblings and provide a meal for the family on Christmas Eve.
To date, they have received approximately 18 donated instruments and approximately $ 1,000 in donations to spend at Long and McQuade, who offered the group a discount and donated 10 new ukeleles. In addition to used guitars, the band is looking for money to buy extra gifts for siblings, to pay for guitar tuners, and to buy some amps, strings, and other accessories.
Recipients will be selected by random draw from those who complete an online form.
There are four businesses that serve as drop-off points during normal business hours in Victoria and on the West Coast, including Soupa Cafe at 736 View St., M2 Graphix on Langford Parkway in Langford, Tanlo Floristry on Lilian Road in Victoria and LC Coins on Rue Menzies in Victoria.
A similar campaign in 2019 collected 35 instruments.
• For more information or to donate, visit thegiftofmusic.ca.
>>> Victoria's Power To Be receives a new vehicle
Victoria-based Power To Be, a non-profit organization that helps people living with cognitive, physical, financial and social barriers access nature through tailored recreation programs, is one of three organizations at receive a new Toyota vehicle with modifications for physical accessibility – each valued up to $ 70,000.
The donation comes from the Toyota Cars for Good program, which rewards organizations that promote inclusion through physical accessibility.
"We are proud to support the work of so many local Canadian organizations to remove barriers to movement and foster a more inclusive society for people in their communities," said Cyril Dimitris, Vice President, Sales and Marketing for Toyota Canada. .
Other recipients included the Manitoba Wheelchair Sport Association and the Kamloops and District Society for People in Motion. Three other organizations, Variety: The Children's Charity of Ontario, Ability New Brunswick and Opal III Fredericton Respite Services, each received $ 5,000 to recognize their efforts to promote inclusion through physical accessibility.
"This year's submissions to the Toyota Cars for Good initiative were absolutely amazing," said Billy Bridges, Canadian Paralympian and one of the judges on the selection committee.
"In a year of negativity and struggle, it has been so heartwarming to read all the amazing things Canadians are doing from coast to coast to coast to improve the lives of those facing physical barriers. "
• For more information, go to toyota.ca/toyota/en/cars-for-good.
>>> Food for the Esquimalt Neighborhood House
The Township of Esquimalt and Canadian Union of Public Employees staff raise food to support Esquimalt Neighborhood House.
Non-perishable food can be dropped off at any facility in the Township of Esquimalt by December 21 during business hours. The locations include the municipal hall, the sports center, the public security building, the recreation center and the public works yard.
Donations can also be left for pickup.
Residents can place non-perishable items in bags labeled collect food. A CUPE staff member will pick up the donation on the same day as the regular garbage collection. Residents will receive reminder cards in the mail with dates and donation information listed.
Pickup schedule:
• Week of December 13 to 17 – route north side
• Week of December 6 to 10 – south side route
Esquimalt Neighborhood House is a non-profit organization that provides support services to children, youth, adults, families and seniors. For more information, go to enh.bc.ca.
Elements Casino Victoria will also be hosting an on-site food drive during the Love Your Local campaign, with all items collected to benefit the Goldstream Food Bank.
Non-perishable food will be accepted between November 29 and December 10 at the casino, 1708 Island Hwy.
>>> Soap for Hope meets basic needs
Soap for Hope marks November 30, the ninth annual Tuesday of giving, with a reminder that no one should have to choose between personal hygiene products and food as we enter the holiday season.
So far in 2021, the association, which collects and reprocesses hygiene items and linen from the hotel industry, has distributed nearly 408,000 hygiene products to people in need through 491 community establishments. The products included soap, shampoo, feminine hygiene products, linens, toothpaste, hand sanitizer and masks.
Giving Tuesday was founded as a counterpoint to the consumerism of Black Friday and Cyber ​​Monday. He calls on communities to support charities that work hard to improve the quality of life for those less fortunate.
"Soap can seem so basic, but sometimes you have to start with the basics to give hope and dignity to those who need it most," said C. Anne McIntyre, CEO of the association.
"Your donation directly helps provide all the items we need to purchase. Imagine if you didn't have toothpaste, toothbrush, deodorant, or feminine products. What would it do for you to step out in society knowing that you haven't brushed your teeth or that you don't feel clean? Your donation makes a difference.
• For more information, go to soapforhopecanada.ca.