More than 100 global donors write letter to "stand by" Palestinian rights groups banned by Israel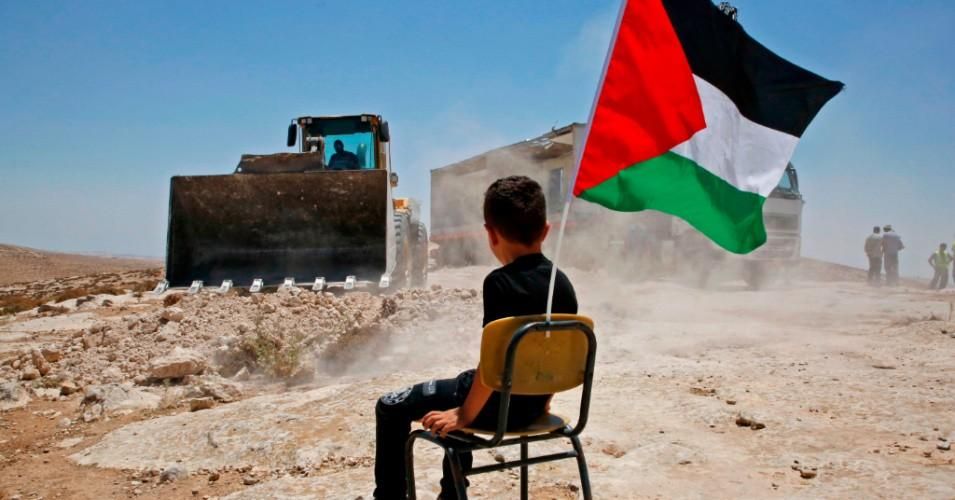 More than 100 global philanthropic foundations and individual donors on Tuesday joined a growing chorus of human rights defenders who condemned Israel for its recent move to label six Palestinian civil society groups as "terrorist organizations," and stressed that the apartheid regime's decision won't affect their funding decisions.
"The cynical weaponization of anti-terrorism laws poses an existential threat to both Palestinian human rights defenders and human rights defenders around the world.
The punitive classification, released last month by Israeli Defense Minister Benny Gantz, targeted half a dozen groups: Addameer, AlHaq, Bisan Center for Research and Development, Defense for Children International – Palestine, Union of Agricultural Work Committees and the Union of Palestinian Women's Committees — which serve millions of Palestinians living in the occupied territories.
"This designation criminalizes the work of these organizations and allows for the closure of their offices, the seizure of files and equipment, and the arrest of staff members, as well as[s] criminalize those who fund or otherwise support them, "wrote in an open letter a coalition of dozens of philanthropic foundations and individual donors, most of them based in the United States.
"Foundations and international donors play a critical role in supporting communities at the forefront of promoting social justice around the world, especially in areas where the well-being and human rights of marginalized peoples are the most threatened, "added the coalition. "In Palestine, civil society organizations fulfill essential roles in providing services, defending human rights, protecting land and water resources, and denouncing the continued occupation and violations of international law. .
Last week, researchers revealed that before their groups were banned by the Israeli government, the cellphones of six Palestinian activists were infected with Pegasus spyware, an invasive technology sold by the private Israeli company NSO Group and used to target journalists and dissidents around the world.
"The revelation of unlawful spying on peaceful Palestinian human rights defenders, in addition to baseless allegations of terrorism against internationally respected human rights organizations, underscores how important it is for the international community to continue to support their legitimate work, "Andrew Anderson, executive director of Front Line Defenders, said in a statement.
"This episode will certainly serve as a warning against any deployment of the term 'terrorist' against human rights defenders anywhere in the world," he added, "and will renew efforts to curb the use of spyware against human rights defenders, journalists, and other civil society activists.
In its open letter, the coalition wrote that "the targeted attack on six of the main civil society organizations in Palestine is a blatant attempt to silence and criminalize dissent against the Israeli government's human rights violations," including his plan to build more than 3,100 new illegal settlements on Palestinian land, announced just days after the six groups were banned.
"The cynical militarization of anti-terrorism laws," said Lara Friedman, president of the Foundation for Peace in the Middle East, "poses an existential threat to both Palestinian human rights defenders and those who defend human rights in the United States. world ".
"Our funding decisions are up to our boards and our conscience, not the Israeli Department of Defense."
"The magnitude of the signatories of this letter underscores the shared recognition by donors of the urgency to challenge this dangerous tactic and of the moral obligation to defend partners on the ground who, in essence, have been targeted for attack. because they did their job. defending human and civil rights too well, "she added.
Other signatories include the American Friends Service Committee, Right Livelihood, and the Unitarian Universalist Service Committee. Along with dozens of other groups and individuals, they wrote, "We defend the rights of Palestinian civil society organizations to carry out their crucial work. We defend the key values ​​of freedom of expression, the power of solidarity and the right of all peoples to justice and dignity. "
"The added threat of criminalizing those who stand up for these organizations (including their funding) is a direct attack on freedom and the goal of global donors to stand in solidarity with Palestine," the coalition noted. "As funders committed to human rights, we refuse to be silenced or intimidated. We conduct extensive due diligence processes in our grant making, including [the] project support. Our funding decisions belong to our boards of directors and our conscience, not to the Israeli Department of Defense. "
Global foundations and individual donors have stressed that "we stand in solidarity with civil society organizations" that are under attack in Palestine.
Gantz's decision to slap six prominent human rights groups with a "terrorist" designation, said Kay Guinane, founder and senior advisor of the Charity & Security Network, "mark[s] a crescendo, not an opening salvo, in the Israeli government's long-standing campaign to suppress Palestinian civil society. "
"For more than a decade, Israel has worked with a network of legal groups and disinformation groups to distract, fund and delegitimize organizations in Palestine and abroad that work to meet the needs of Palestinians and end human rights abuses. human rights of Israel, "Guinane noted. "Now, in addition to supporting disinformation and spurious lawsuits, the Israeli government is simply banning those who speak out against its abuses. "
Latanya Mapp Frett, CEO of the Global Fund for Women, stressed that "the philanthropic community must not remain silent. by the patriarchy. "
The open letter urges the US government, the European Union and other governments around the world to protect Palestinian civil society by taking the following steps:
Denounce all smear campaigns against Palestinian civil society organizations and urge the Israeli government to immediately and completely rescind Gantz's designation as a so-called "terrorist organization" against the six Palestinian human rights organizations;
Hold the Israeli government accountable for compliance with international law and human rights standards; and
Ensure that all philanthropic funds intended for civil society organizations in Palestine reach them without interference from the Israeli government or financial institutions.
"As global funders of human rights and democracy, this attempt to 'cool' our funding and solidarity will not work," the coalition wrote. "We stand alongside Palestinian civil society organizations and human rights defenders. We affirm our right to freedom of expression and to provide financial support to organizations that advance the human rights, dignity and well-being of the Palestinian people.