Legacy income from UK charities set to reach £ 5bn in 2030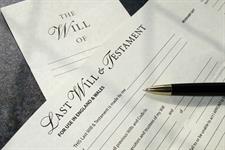 Legacy income will hit £ 5 billion a year by the start of the next decade, new figures show.
Research by the Legacy Foresight charity consortium estimates that legacy income will rise to £ 19.6bn by 2025 and climb to £ 23bn in the second half of the decade.
The consortium predicts that charities will receive £ 5 billion in legacy income in 2030 from 146,000 bequests.
Total inherited income from the UK has grown from £ 800million in 1990 to £ 3 billion in 2020, an annual growth rate of 4.5% per year, he said.
After factoring in inflation, income is up 2.7% per year, meaning the real value of wills donations to UK charities has doubled in 30 years.
During the same period, the number of charitable bequests increased by almost 50% to reach 112,000 in 2020.
Legacy Foresight said that due to the size, wealth and lifestyle of the baby boomer generation, inherited income is expected to double again in real terms by 2050.
The consortium estimates that 40% of all deaths in the UK result in a will on probate and 16% of those wills on probate are now charitable.
On average, there are 3.3 charitable donations per will, since 38% of charitable wills contain only one bequest and 28% include four or more.
Legacy Foresight has also found that more specialized and often local cause areas are gaining ground.
Over the past 10 years, the fastest growing sub-sectors have been air ambulances (14% per year) and wildlife trusts, followed by arts and education charities, NHS hospitals and charities. mental health charities.
Legacy notifications are expected to hit a record high in 2021 and 2022.
The consortium found that probate grants were 30% higher in the first half of 2021 compared to the same period in 2020.
At the same time, notifications from the Legacy Monitor Consortium in the three months through March 2021 were the highest Legacy Foresight has seen in its monitor's 14-year history, up 18% from the same period last year.
This suggests that some of the problems with submissions may start to resolve, the consortium said, but those submissions started to fade away again over the summer.
He said anecdotal evidence suggested there were continued delays throughout the process, so challenges for the sector would likely continue until 2022.
Jon Franklin, Economist at Legacy Foresight, said: "After a few difficult years, the prospects for legacy income are bright.
"However, the strength of the recovery depends heavily on the pace at which delays in the estate administration process can be resolved."
A report released late last month by Legacy Foresight found that growth in legacy income in Scotland had outpaced the rest of Britain over the past five years.