Stay true to your mission to avoid being "beaten up" in the media, ACF chief told foundations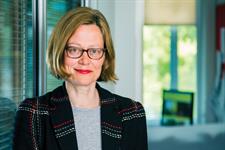 Foundations must stay true to their mission to avoid being drawn into culture wars and being "beaten in the media," according to the CEO of the Association of Charitable Foundations.
Carol Mack made the remarks at the ACF annual conference yesterday in a keynote address on the themes of community, identity and belonging, the need for foundations to place social impact at the heart of the upgrade agenda and how they can navigate culture wars.
"The foundations – with serious and thoughtful approaches to revisiting their history and past ties to slavery – are caught in the crossfire and battered in the media," she said.
"But a beacon through the media storm, and what's most important about it all is your own mission as a foundation, and stay true to that."
Being true meant being bold, robust and clear, said Mack, who also advised foundations to make sure they keep good records of their decisions.
"The sure way to ensure the [Charity] The commission stays on your side, it's to properly document what you're doing and why, and tie it all into your charitable goals, "said Mack, who previously worked for the regulator.
She also spoke about the need for foundations to ensure that their work is not exclusive or that it does not contribute to community dynamics where agency and power are unequal, in what she described. as the "dark side of social capital".
"Evidence from various sources suggests that organizations run by black and minority communities are less likely to apply for funding; are less likely to be successful in obtaining a grant if they apply; and, if they get a grant, they get less money, "Mack said.
But she said she believed that was starting to change because "the past year has seen new programs from multiple donors to tackle racial inequalities."
Mack then turned to the government's level-to-the-top agenda.
"As we all know, it is essential to fight against inequalities between areas. It should be clear to everyone that community and social capital must be at the heart of the upgrade, "she said.
Mack pointed to research by think tank NPC which estimated that nearly 90% of upgrade funding would go to physical infrastructure, not people or communities.
"I hope the new Department for Leveling, Housing and Communities under Michael Gove will change that focus and support the social infrastructure communities need – and it is also vitally important to consider leveling at within communities, not just between them, "Mack added.
"The fight against regional inequalities must go hand in hand with the fight against racism, homophobia and all the other ways that human beings have found to exclude others, so that everyone has an equal chance in life. And the key to tackling inequalities in the future will be to tackle the climate crisis. With all of that in mind, I think the foundations should be at the heart of the upgrade in its broadest sense.
At last year's ACF conference, Rushanara Ali, Labor MP for Bethnal Green and Bow, warned that "short-sighted" cuts to the international aid budget would increase pressure on philanthropic foundations.