USD Women In Philanthropy Helps Invest in Student Futures | Local News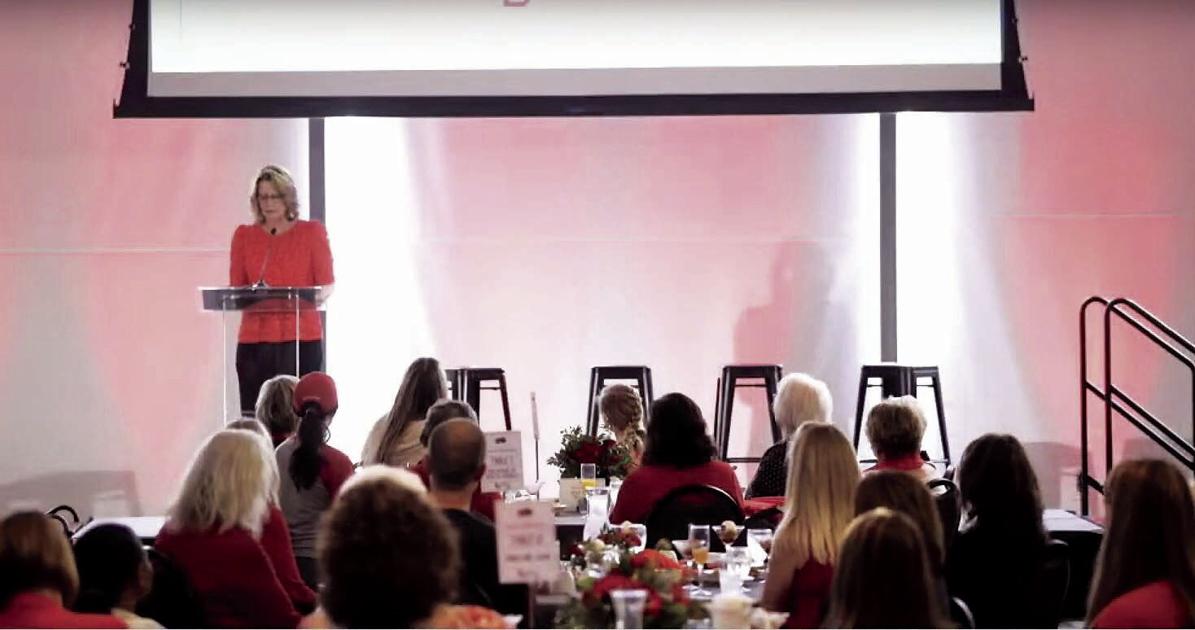 University of South Dakota President Sheila K. Gestring spoke at the USD Women in Philanthropy Annual Meeting on September 11, sharing both past successes and future initiatives.
"While the pandemic has limited our social interactions, it has not slowed progress in college," she said in her speech. "It didn't hinder any of our ambitions. Among the group that specifically helped us keep moving forward was you. You have all answered the call to support our students. From providing Kickstarter funds to Charlie's Closet, for those facing food insecurity to mental health care, for those experiencing heightened levels of stress and anxiety. You were there for our students and I personally am extremely grateful to you.
Others shared the impact Women in Philanthropy has had on their lives, including Abuk Jiel, Director of Development for USD Women in Philanthropy.
"Women In Philanthropy was created with the goal of providing women with the outlet for their energy and passion for philanthropy and the University of South Dakota," said Jiel. "Hundreds of women have signed up over the past three years. Your common mission, your passion and your generosity have truly inspired the students and the community of SHU.
Gestring spoke a bit about several initiatives supported by the group, including Elevate and Charlie's Cupboard.
"Elevate, the first recipient of Women in Philanthropy, continued to promote leadership development opportunities for the SHU women's basketball team," she said. "Over the past year, the women have met with a financial planner to learn how to make informed decisions with their money and plan, learn how to invest their money and budget appropriately."
Through the program, Gestring said, basketball players also received health and nutrition information, as well as advice from leadership expert Jeff Jansen on how to be a confident leader and supportive contributor.
Charlie's Cupboard, also funded in part by Women in Philanthropy, has grown to three times its original size, now including a refrigerator and freezer, according to Gestring.
The group has also invested in mental health and student counseling services in USD, which has been invaluable, especially in the aftermath of the pandemic, she said.
"Even before this crisis, the number of students with access to mental health was five times higher than enrollment," Gestring said. "The financial investment from this group has expanded the ability of the student counseling center to reach students in need of mental health support through in-person and virtual counseling services. It is inspiring to be surrounded by so many women who are passionate about supporting the university and its students. "
The current President of the Student Government Association, Ally Feiner, is one of the students affected by Women in Philanthropy.
"Women in Philanthropy – I can't thank you enough for being there for students when needed," read a statement from Feiner read at the event. "Last year the pandemic was devastating and really affected my academic career. Like many other students, I have struggled to adjust, but seeing women come forward and support mental health means I don't have to be embarrassed or ashamed to ask for help. Mental health has such a big impact on an individual and I'm happy to see others focus on filling their cups first.
The four initiatives chosen for this coming year, according to Gestring, include the President's Senior Leadership Institute, the Native Student Services Learning Living Community, the USD Knudson School of Law Women Leader Lecture Series and the Cultural Wellness Coalition.
The goal of the President's Senior Leadership Institute is to train the next generation of leaders.
"By working with graduate students, the institute offers a wide range of opportunities for personal and professional development," Gestring said. "Financial Literacy Etiquette Job Preparation also prepares them for life after graduation and connects a USD student with a USD alum, an influential leader in our state and provides this type of network that helps our graduates secure these meaningful careers and prepare them for success far into the future.
The second initiative, the Knudson School of Law Women Speaker Series, puts more emphasis on these links, according to Gestring.
"[The speaker series] brings law school alumni to campus for a panel discussion focused on excellence, service and leadership, "she said. "It's a great way for women entering the legal field to explore mentorship opportunities. It also helps them meet the demand for lawyers in our state by fostering an inclusive and highly supportive environment. "
The other initiatives favor diversity.
"The Native Student Services Office has partnered with University Housing to establish a living learning community that helps Native American students make the transition to college," Gestring said. "It honors their culture and creates better life experiences. We find that this vibrant learning community has a significant impact on the retention and graduation rates of our Native American students. "
The last initiative mentioned is the Cultural Wellness Coalition (CWC), which celebrates diverse experiences and perspectives.
Programs such as the Cultural Film Festival are presented on campus by the coalition, according to Gestring.
"The CWC seeks to expand this reach by providing mentoring opportunities in the Vermillion community, hosting meaningful conversations on campus and ensuring success for all students," she said. "Being here today, I know you care about the well-being of our university, our students and our state. I hope you will join me in engaging in this local effort to empower and celebrate women who want more for our university. With your support, there is no limit to what American women philanthropists can accomplish.
Gestring explained how USD Women in Philanthropy has helped the university in some of its strategic goals.
"Our current strategic plans have identified six themes on which we will devote significant efforts in the years to come," she said. "These themes cover things like affordability, student engagement, modern facilities and academic excellence, all contributing to our ability to recruit and retain the best and brightest states. These strategic elements are also evident in our short-term priorities to fund initiatives that will develop leaders in several areas with emerging needs. "
Gestring mentioned the pride the university feels in the omnipresence of SHU alumni in so many important areas.
"I think it's safe to say that if any of you have ever used legal or health services or been a K-12 beneficiary or needed tax advice or business consultancy or maybe went to the symphony or witnessed other fine art, theater, concert or whatever, you met a SHU leader in her community, "she said . "This is something we are very proud of at USD. We continue to strive to stay ahead of this trend and we will improve the well-being and quality of life for our students in South Dakota and the region and perhaps the whole world and we could not achieve this without your support. The initiatives that Women in Philanthropy has identified for investment will go a long way towards achieving our strategic goals. "