Philanthropist donates food to motherless children and empowers citizens of Ekiti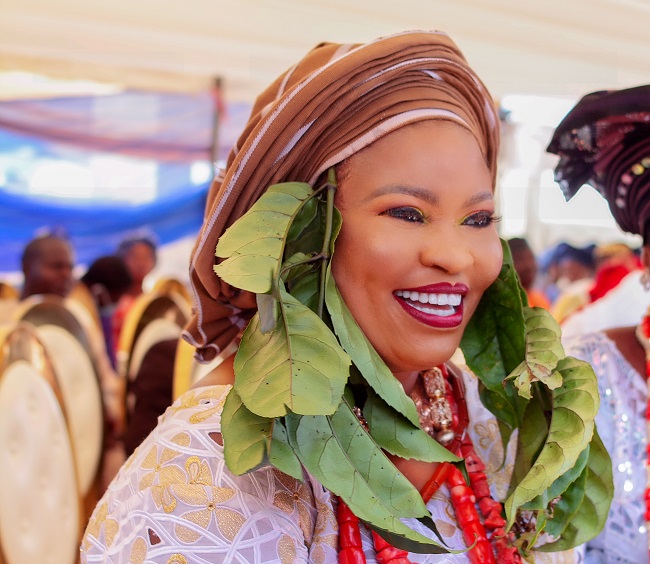 A successful engineer and philanthropist, Chef Kemi Elebute-Halle, donated food and other materials to motherless children and also empowered the citizens of Ekiti State.
Elebute-Halle who was confirmed with an Erelu Atayese chiefdom title of Iyin-Ekiti alongside her Israeli husband, Engr Haim Halle, by the Oluyin of Iyin-Ekiti, Oba Adeola Ajakaye, also distributed this weekend helmets for about 200 Okada runners, 5 kg bags of rice for 150 people and cash gifts to the less privileged in the community.
She noted that her gesture to the children was a way of helping them in her renewed vigor to see them realize their God-given potentials in life, regardless of their current condition.
Elebute-Halle, who lamented the increasing rate of societal decadence leading to the abandonment of most children, said stakeholders must unite their efforts to remedy the horrific situation in the best interests of the future of the community. generation to come.
She revealed that she is firmly determined to continue her activities in helping the needy people in society by ensuring that young people and women are empowered enough to take up their responsibilities.
While stating that there is a need for attitude change on the part of people to reach out to vulnerable citizens as commanded by God, added that parents have a lot to do to instill discipline in their wards on the need to avoid social vices.
She said, "I want to believe that we are all babies in the hands of God, no matter how old we are. I want to take care of everyone around me, regardless of their age or where they come from. I have always been passionate about the less privileged in society, I wish I could take care of everyone in the world, where everyone will be well and at ease.
"Whatever you give, you will get it back, it is the law of nature. I'm going to say it from the point of holy scripture that when you give people will give you back in a good measure. I'm just filling in nature and doing what God asked me to do.
"I want to implore society to be responsive and responsible. Everyone has a place where they came from in this world. Not everyone can cope with life's problems and that is why you see abandoned children in our society. I want our men to take responsibility and when they know they can't take responsibility they should leave the ladies alone. Our ladies must also see that whenever they see a man incapable of taking responsibility, they must flee from such individuals.
"It goes beyond government, awareness should start from our homes, let's train our kids the right way. Our parents should be responsible for the children.
Regarding the title of chiefdom, she congratulated Oba Ajakaye for having recognized them, which, according to her, would further encourage them to continue contributing to the development of society by empowering the people.
"I have done a lot for the society plagued by employment and other means of empowerment and I want to thank Oluyin-Iyin Ekiti for the title of chef conferred on my husband and me", she declared.
YOU MUST NOT MISS THESE NIGERIAN TRIBUNE TITLES
We haven't had a water supply for months – Abeokuta residents
Despite the huge investment by the government and international organizations in the water sector, water scarcity has become a permanent nightmare for the residents of Abeokuta, the capital of Ogun State. This report x-rays the lives and experiences of residents getting clean, safe, and affordable water amid the upsurge in COVID-19 cases in the state.