Bridging the Gap Between Donors and Recipients: Five Ways Charities Can Get the Right Help from Businesses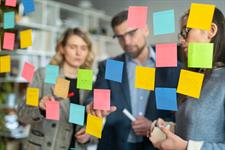 Sourcing tailored support from the business community is one of the most difficult challenges any nonprofit faces. With the help of industry expert Tiia Sammallahti, CEO of WhatImpact Charity-Business Matchmaking Service, we share five tips for getting the help that best suits your goals.
1. Find partner companies that share your values
Philanthropic projects based on short-term initiatives and shallow partnerships often lack the long-term impact to bring about tangible and lasting change. It is much more effective for private and third-sector partners to unite around a common vision of the future, underpinned by mutual values.
Don't rush into partnerships, but ask: what do you both want to see happen in society that could solve a deep-rooted problem? the theory of change is a useful tool here. Too often, in private / third-sector companies, the results do not sum up your initial intentions. Creating a theory of change, which describes the exact methods you will use to solve a problem and how you will measure the results, helps ensure that the results match the ambitions.
"There are so many approaches to solving problems," says Tiia Sammallahti. "Methods of resolving roaming, for example, can vary – so it's important that both parties share their perspective on how best to resolve the issue. "
2. Think about the resources you need to make an impact
Nonprofits often find themselves in the unenviable position of shaking a collection box at businesses that never fill up, while still providing office space for unqualified volunteers from businesses using charitable placements to check off their funds. CSR boxes.
Of course, every charity needs funding, but also think about other ways businesses might support you and be clear about what kind of help you need. Some businesses may not have cash to donate, but could offer services, goods or skills of great practical value.
For example, qualified corporate volunteers with the right experience in technology, training, or leadership could help upgrade skills or mentor your own staff. A study by WhatCharity found that while 40% of charities benefit from skills-based volunteering, the total demand reaches 70%.
As Sammallahti notes: "Not all businesses have grant programs or can afford to donate money. But donations based on services or products may pave the way for greater collaborations in the future. "
3. Create a systematic approach to obtaining support
Any change enterprise must be based on a logical progression framework, divided into specific phases and objectives. Just as NASA knows which booster rockets to fire at different stages of a satellite's launch, a nonprofit needs to understand what resources it will need from donors at each stage of the delivery cycle of a satellite. project.
You may need to leverage legal input when setting up the project, for example, then product-based and skill-based support as the effort crystallizes – with various changes in support. financial along the way.
Charities that are able to consistently identify their needs are more likely to get the help they need. "Think about your resource collection schedule," Sammallahti urges. "Communicating, even on a rough schedule, makes it easier for supporters to get involved in the project. "
4. Strategically approach potential partners
Which private sector organizations could really help your association to make a lasting impact in its field? Not all of them will be leading brands with easily identifiable CSR objectives detailed in voluminous annual reports. They can be SMEs or family businesses known to support social causes in their region, or pioneering startups whose business models are designed to meet specific societal and environmental challenges.
Find and identify potential partners, and approach them strategically. Consider platforms like WhatImpact's, which allows nonprofits to proactively seek help by creating an online profile that can be matched by AI with appropriate partners.
And don't underestimate the influence of a worthy partner. "When you have a big name on your donor list," says Sammallahti, "mentioning it to other potential partners will give your project credibility and open new doors".
5. Communicate your impacts throughout the process
Building a culture of understanding around your projects is essential to maximize contributions from existing donors and capture the attention of new partners. Sammallahti advocates full transparency: "It is easier for supporters to join a project when they know what impact it will have.
Evaluate and quantify the impact of your project before approaching partners. What are your goals? What will success look like? How do you plan to measure progress? If possible, communicate the impact of previous projects. Openness on all these points will strengthen your credibility and lay the foundations for a fruitful long-term collaboration.
For more information on this topic, download the recent WhatImpact white paper Enabling impact creation: rethinking the interaction between the private sector and the third sector.